What is the Difference Between MS Exchange Server And Office 365?
The purpose of using Exchange Server and Office 365 in small and medium sized businesses to manage their documents, files access of applications, communication. Although, they contrast each other on the basis of their costs, limitations, certain features and conditions.
But the actual issue is to choose right cloud service for the business, in this article we will compare the features and the difference between Exchange Server and office 365.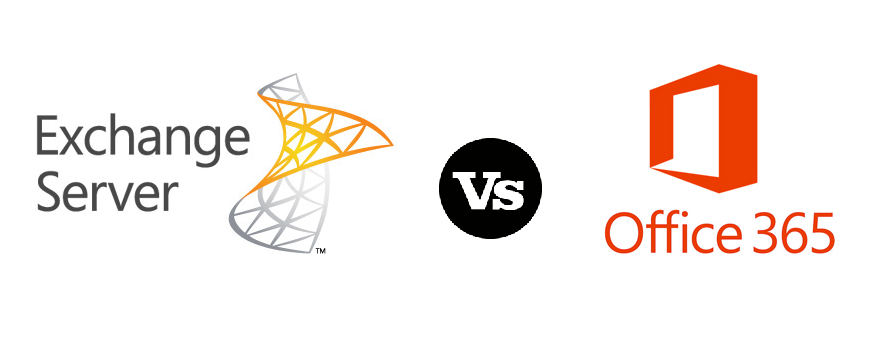 Microsoft Office 365 offers cloud based services to all types of business from very small to medium level and for large businesses. It makes enable businesses to save their time, money and also free up the resources. Office 365 cloud service offers services such as Microsoft Exchange Online , Office Online, Skype. User can connect and access these services with the mere availability of network.
There is different office 365 Plan are available, organization can subscribe the best suited plan for them. The office 365 service is available for Businesses, Education and for Government organization. Users can download their data from O365 Cloud using Office 365 Backup Software in Microsoft Outlook Data File (PST) format.
However, In Microsoft hosted Exchange service server site is provided in rent. Exchange Server is only a mail server and calendaring server. Even user can get Exchange server as a part of an Office 365 plan. when user deploy Exchange account, email messages are delivered and saved in Exchange Server mailbox. It enables businesses to take benefits of Exchange server by eliminating all expanses spend on management and maintenance of hardware and software.
Exchange Server and Office 365
As we have seen little intro about Microsoft Exchange Server and Office 365, so lets proceed to have a look for the difference between both.
Office 365 provides larger space then hosted Exchange a generous. Office 365 offers 50GB mailbox size per user which is usually very larger than any hosting providers. In addition, if user subscribe the Office365 Plan 2 or E3 package, user will get an unlimited email archive.
Admin can set the size limit on email mailbox of Hosted Exchange. However this size limitation can be raised when needed.
When talking about security certifications, office 365 offers more security certificates as compares to Hosted Exchange service.
In a Hosted Exchange more security features can be added after paying cost
With Hosted Exchange, users have the information about the location of their data, where data has been stored. Whereas, in Office 365 it's get difficult for user to know the exact location of stored data.
Hosted Exchange Server
Multiple version choice
User can run Hosted Exchange on it's any version. user can can stay on the desired version as long as they want. However, there exist a end-of-life dead which is a one point, where provider will be forced to phase it out. In addition If the users will choose the older the version, the higher the costs they needs to pay.
Email Service
Exchange server mainly provides email services and it offers unlimited mailbox size whether user wants to access it with Outlook, webmail or with both. User can subscribe from different packages which includes services like Hosted Lync (Skype for Business),Email Encryption, Archiving Hosted SharePoint, Online Backup, and more.
Migration Assistance
Exchange server provider may not charge anything for migration. With the assistance of provider, one can make smooth transition to a newer environment.
Office 365 Over Exchange
Runs On Latest Version
Office 365 bring new features and enhancements with every new release. Office 365 always runs on it's latest version.
Free to Upgrade
User no need to pay extra charge other then monthly subscription fees. The automatic upgrade of software takes place itself in the system.
Available with lots of Apps
There are many applications available in office 365 service other then emails. Office 365 offers collaborative platform which includes applications such as Office suit, Project Server, Yammer, Skype, Sway, etc.
Conclusion
As we have discussed about Exchange Server and Office 365 in this article. Therefore according to that if we take look on both the cloud service, Office 365 emerges as better option as it offers multiple number of applications and features with auto maintenance a. However, for deploying cloud service only for mailing purpose , hosted Exchange service is a better option that user can opt.