Find the method for Exchange 2010 export disconnected mailbox to PST and learn the types of disconnected mailboxes there are. Also, find out how the mailbox gets disconnected. We will be discussing both methods in detail so stick with this write-up to learn the facts.
Not many users know that a disconnected mailbox is an orphaned mailbox that is not linked to any Active Directory user account. This happens when the administrator disables or deletes a mailbox using the Exchange Admin Center.
Another way to disconnect the mailbox is via Exchange Management Shell using the Disable Mailbox or Remove-Mailbox cmdlet. When the mailbox is deleted then it retained for 30 days by default and if users are not aware about the retention policy then the disconnected mailbox gets permanently deleted.
That's why users wants to export disconnected mailbox to PST Exchange 2010. In case, if any of this situation occurs in the future then they have a PST file as a backup through which they can retrieve and access the purged mailbox.
Now, there are two types of disconnected mailboxes as given below:
Disabled Mailbox – When using the Disable-Mailbox cmdlet to disable the mailbox, it only deletes the mailbox and not the associated Active Directory user account.
Soft-Deleted Mailbox – If a user deletes the mailbox using the Remove-Mailbox cmdlet, it deletes both the user mailbox and the Active Directory user account.
Pay Attention: As we know that when the Exchange mailboxes retention period expires then the mailbox gets purged and there is no other manual solution that recovers permanently deleted mailbox. If any of this situation occurs then users can use the SysTools EDB to PST Converter Tool which provides an Advance scanning mode that recovers the purged Exchange mailboxes and data items from loaded Offline EDB file. Also, users can use this utility to bulk export disconnected mailbox to Outlook data file in a simplified manner without any hassle.
Download Now Free Purchase Now 100% Secure
Technique 1 – Manual Solution to Perform Exchange 2010 Export Disconnected Mailbox to PST
This method needs users to have in-depth knowledge in the technical arena to successfully apply the commands for to remove the mailbox from disabled state. If you are new to Exchange Server and do not have much idea about how to use the PowerShell commands, it is suggested you use the expert recommended solution.
To export disconnected mailbox to PST from Exchange 2010, users have to first create a temporary user account and then run the command to get mailbox recovered. Follow the given steps for it:
1. First of all, you have to create a temporary user account.
2. After that, you need to connect the inactive mailbox(es) to the newly created account.
3. Then, run the following command to get the data extracted from the reconnected mailbox(es).
New-MailboxExportRequest –Mailbox  -FilePath ""
4. The data will be exported and you can again disable the reconnected mailbox(es).
There are a few limitations encountered by users to export disconnected mailbox to PST Exchange 2010 task. Find these drawbacks as discussed below:
Time-taking and lengthy procedure
Risk of data loss and corruption is high
Cannot work properly with corrupt Exchange mailboxes
Requires technical expertise to perform this operation which is not suitable for every user
Since the requirement of technicality is high in this method, those users who are not inclined towards this field can skip to the professional method. Also, for those users who have accidentally deleted the mailbox can recover it even after permanent deletion and create a backup to avoid getting in this situation again.
Technique 2 – Use Automated Wizard for Exchange 2010 Export Disconnected Mailbox to PST File
The software as mentioned in the beginning of the article has a lot of benefits and there is no technical expertise required to perform the task using EDB to PST Converter Tool. It supports various Exchange mailboxes such as: disconnected, archive, users, shared, and legacy. Users can easily export multiple disconnected mailboxes to the Outlook data file without using any command. By default, it creates UNICODE PST file.
Download Now Free Purchase Now 100% Secure
This utility provides Quick and Advance scanning mode which recover Offline/Dismounted EDB file from corruption. Users can select the Quick scan to recover Exchange database from minimal corruption and for the highly corrupted EDB file select the Advance scan. This mode also recovers permanently deleted mailboxes & data items from .edb file.
After recover, users can export the recovered Exchange mailboxes to PST and other file formats. It generates the export report which contains the success and fail count of exported Exchange database mailbox data.
Also, here, you will find a few options during the procedure to export disconnected mailbox to PST Exchange 2010 under the Advanced Settings option.
PST Split Option: This option allows to set a specific file size after which the software will break the Outlook data file.
Date-Filter Option: To set a From Date and To Date for selectively exporting data from given time-range.
Categories: It export the selective mailbox data items to the selected file formats
Notable Features Of Automated Utility
Support EDB file (Public & Private) and STM file
Preview mailbox data items before conversion
Maintain actual folder structure and keep metadata intact
Export EDB to PST, EML, HTML, MBOX, MSG, PDF file formats
Remove email encryption (SMIME/OpenPGP) from Exchange mailboxes
Suitable with all Windows OS, MS Exchange Server, & Outlook versions
Working Steps for Exchange 2010 Export Disconnected Mailbox to PST
1. Download and Launch the automated tool
Download Now Free Purchase Now 100% Secure
2. Click on the Add File option to load the EDB file >> Click on the add button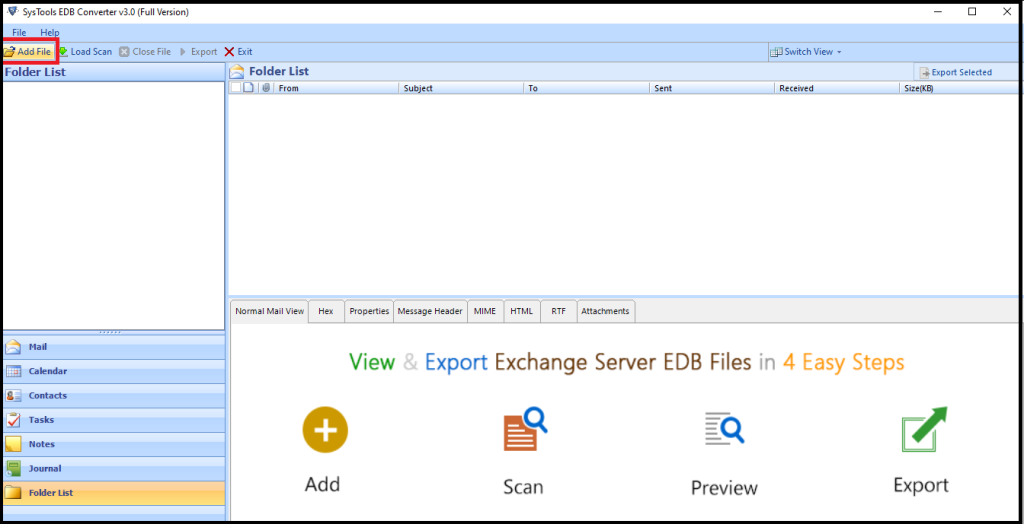 3. Preview the Exchange mailboxes >> Click export button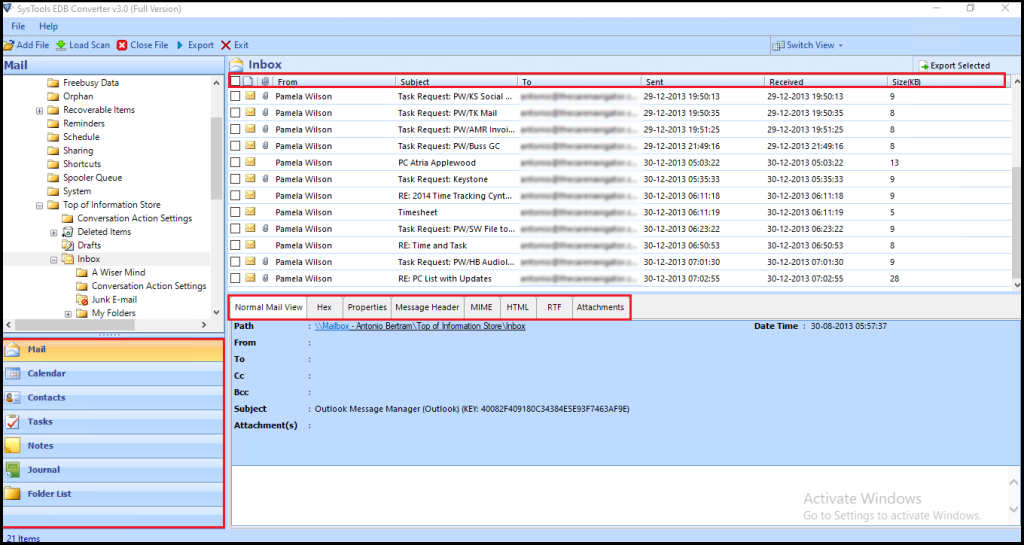 4. Select disconnected mailboxes >> Click on the PST radio button >> Select the browse button to set target file location >> Click on the export button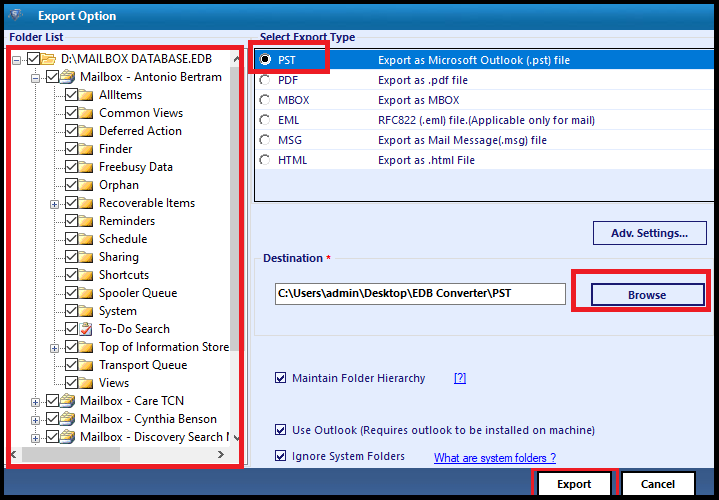 Bringing It All Together
There are various errors and mistakes that we make due to which our data is lost or deleted. Just like that, the mailboxes from Exchange Server may be deleted by users accidentally. In order to perform the Exchange 2010 export disconnected mailbox to PST file format you can use the solution provide d here. The manual method is only suggested to the technically inclined users because if you are new to the Exchange environment then it will be difficult for you to understand the solution. So, to avoid the technical and complexity it is recommended that users can use the advanced solution described above which easily export the disconnected mailboxes to Outlook data file without any hassle and is capable to recover permanently deleted Exchange mailbox in a hassle freeway.