How to Export Large size EDB Mailboxes from Exchange 2010 to PST?
Are you looking for a solution how to export large size EDB mailboxes from Exchange 2010 to PST format but didn't find it. In this blog, we will try to resolve this problem with the help of advanced solution.
There are several situations where Exchange administrator wants to export Exchange mailboxes to PST. However, an email often carries more than just a text message. An email may include lots of information in their attachments. Due to which the size of mailboxes increases. But, Exchange has a default size limit, so it creates a problem when mailboxes exceed the default size limit.
Use Automated Wizard For How to Export Large Size EDB Mailboxes From Exchange 2010 to PST
If you need an error-free solution to migrate any size of Exchange mailboxes to PST format, then you should use an advanced solution like SysTools Exchange Export Tool. This software is designed with an advanced algorithm that can export Exchange mailboxes to PST of large size format without any trouble.
Download Now Free Purchase Now 100% Secure
This utility support Exchange Server versions from 2003 to 2019. You can select any version of Microsoft Exchange & export large mailbox to PST Exchange 2010 and many more. It automatically detects, scan & load the AD (Active Directory) configuration and provide Include Sub-Domain User's option, which allows them to search the mailboxes with-in the sub domain.
After exporting, it also gives a feature to divide the resultant PST file into multiple parts according to your defined size. It helps a lot at the time of importing the PST file into Outlook application. In addition, this application does not need any external help to perform the migration of large Exchange mailbox to PST.
The software maintain original folder structure and allow users to export large mailbox to PST Exchange 2013 in a specified date range by using the date filter option. Technical and Non-technical users can use this tool and save their precious time and effort.
It is also compatible with MS Outlook version from 2019 to 2003 and Windows OS – 10, 8.1, 8, 7, Vista, XP. The tool auto-create the export report with store the information of large Exchange mailboxes data.
Stepswise Method for How to Export Large Size EDB Mailboxes from Exchange 2010 to PST
Step 1: Download the professional Software in your local system > Install > Launch it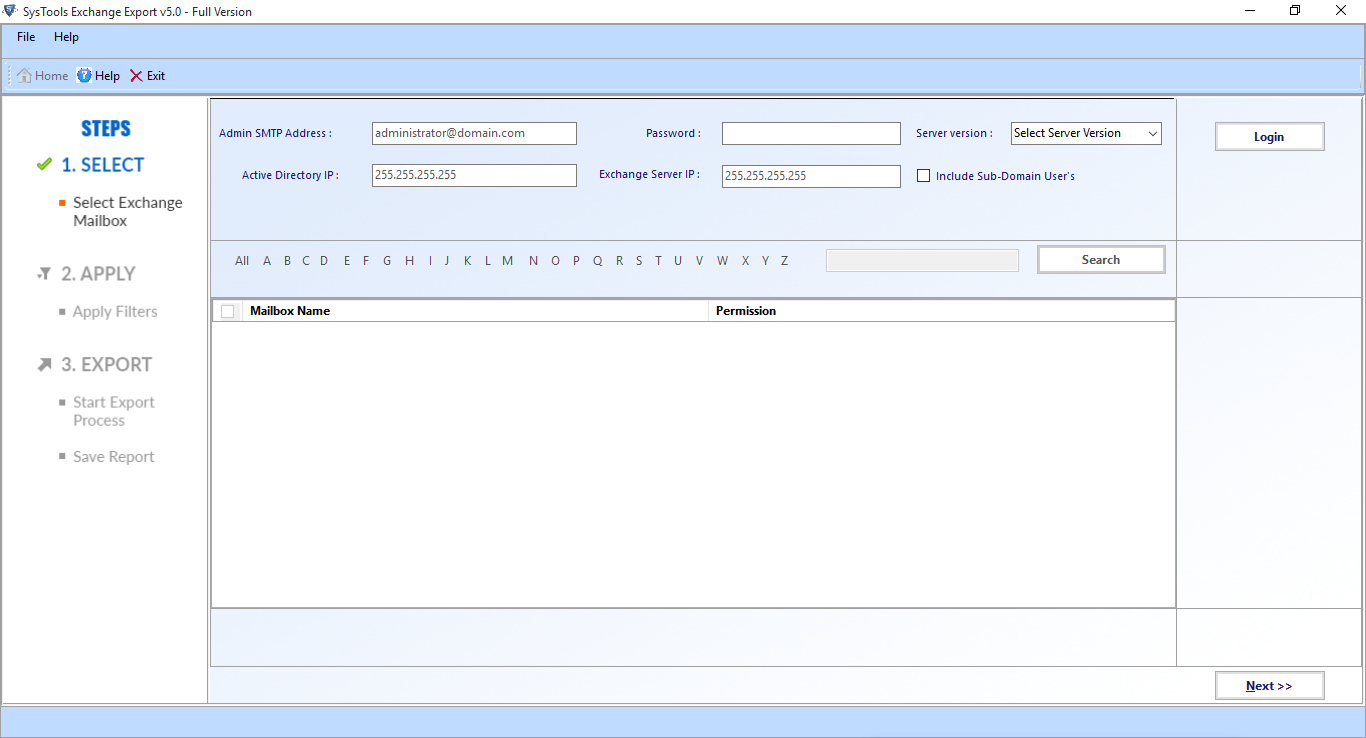 Step 2: Enter the Exchange credentials such as: Password, Admin SMTP Address, Exchange Server and Active Directory IP > Then, select Microsoft Exchange Server version > Select the "Include Sub-domain user's" option > Click on the login button
Step 3: Select the Exchange database mailboxes > Click on Next button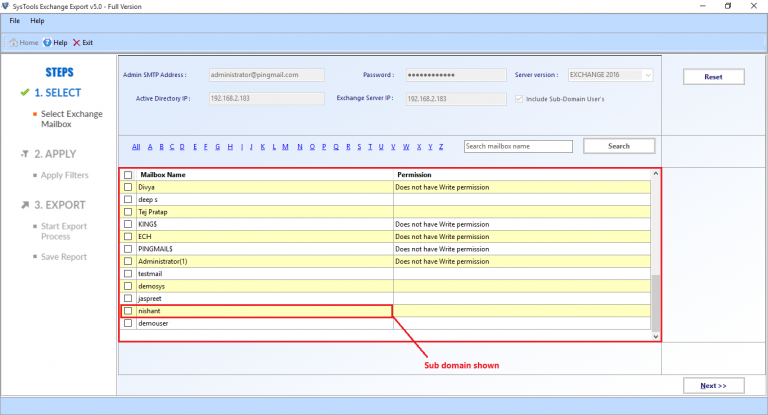 Step 4: Select EDB mailbox data items > Click on the split option for Outlook data file > Select the browse button to set target file location > Click on the export button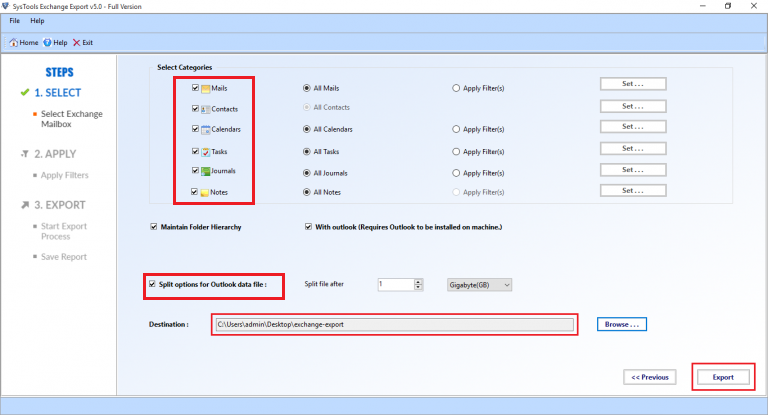 Finally, the large mailboxes are successfully exported from Exchange 2010 to the PST file
How to Fix Large Size Issue While Migration of EDB Mailboxes?
When people try to export a large size of mailbox from Exchange to PST, there are chances that process stops in between or shows the blank PST file in Outlook. This situation can be tiresome for users. So, they need a solution to resolve this large file size issue. However, Exchange provides a feature to set the default size limit for mailbox and attachments. Basically, there are three places where an administrator can configure the default message size limits on Microsoft Exchange Server:
Organization transport settings
Send/receive connector settings
User mailbox settings
Now, you can check the current limit of your Exchange Server. You can easily open and access them with the help of either Exchange Management Console (EMC) or PowerShell command. Run the following commands in Exchange Management Shell to set the limit:
get-transportconfig | ft maxsendsize, maxreceivesize
get-receiveconnector | ft name, maxmessagesize
get-sendconnector | ft name, maxmessagesize
get-mailbox Administrator |ft Name, Maxsendsize, maxreceivesize
To set up the size limit of attachments in the Exchange, you can use the PowerShell script that is given below:
New-TransportRule -Name LargeAttach -AttachmentSizeOver 10MB -RejectMessageReasonText "Message attachment size over 10MB – email rejected.
After running these commands, you can set the default size limit for Exchange mailbox and their attachments. But, when the size of mailbox exceeds in another case, you need to set the default size in Exchange again. Because different mailboxes can be of different sizes. This is a difficult task to change the settings of Exchange mailboxes size again and again.
If you do not face the file size limitation problem in Exchange and migrate the Exchange mailboxes in PST format. Then, the next challenge is to import this large size of PST file into Outlook. As we know, Outlook supports its own default size limit of the file. And, it is not possible to import a heavy PST file into Outlook.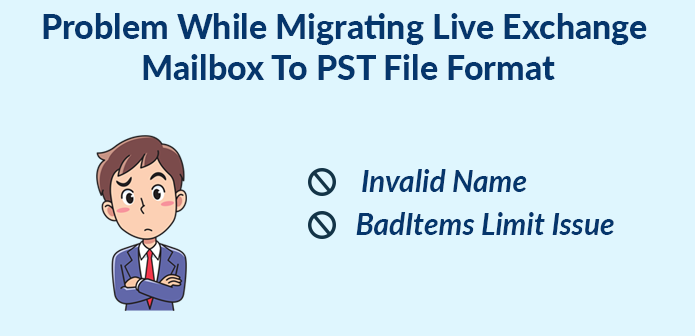 Issues While Dealing with Large PST file In Outlook Application
If you try to import a large size of PST file in Outlook, then your Outlook application may stop or pause while reading, moving, or deleting emails. To get rid of this situation, Microsoft Outlook allows users to split the large PST file into various smaller parts. It can be done according to the date based filter. After splitting the PST file, it will be easily imported into the Microsoft Outlook. This solution can resolve the exporting large size EDB mailboxes from Exchange 2010 to PST issue. But, the procedure takes a long time. Also, there is a chance that it shows a blank file or fails to execute.
Wrapping Up
Exchange administration always needs to transfer their mailboxes into Outlook application. But, it creates a problem when an admin has a large size of Exchange mailbox. So, we have discussed here how to export large size EDB mailboxes from Exchange 2010 to PST in no time with no data loss by using the advance solution mentioned here. In addition, the process of setting the default size limit in Exchange and splitting PST file is also described in this post.