In Exchange 2007/ 2010 – Export Mailbox to PST Skip Corrupted Items
To fix this issue while Exchange 2007  / 2010 Export Mailbox to PST Skip Corrupted Items using Parameter "BaditemsLimit" in this write-up.
When an Exchange Administrator wants to export the contents of individual mailboxes to PST format. In order, to move specific users mailbox items with PST format that is easily portable and ready to use with MS Outlook application.
In Older Version such as Exchange 2007 / 2010, PowerShell Command and Exchange Admin Center can be used to export mailboxes of the user. But sometimes while these Commands, the process failed due to some corrupt items stored in Exchange mailboxes and may lead the disruption in the entire migration procedure.
Before proceeding forwat let's view some scenario's related to this Corrupted Items Issue:
User Query
"I am running Exchange 2010 now, and when opened a PowerShell and used the Export-Mailbox command. It failed with ' This mailbox exceeded the maximum number of corrupted items'. I searched and learned about 'BadItemLimit 50′ to export mailbox command. I did that limit and the export to PST then ran fine.

But, when I open the exported PST file I find that it does not same to what I view in my mailbox utilizing MS Outlook 2007. More specifically, it shows to me like it includes a whole heap of old stuff that I have already deleted before. So, please suggest me an effective solution to perform Exchange 2007 / 2010 export mailbox to PST skip corrupted items.
It is important to find the root cause first. That will prove beneficial in prohibiting this error from occurring again. Below are the prime causes that may trigger this error. If the Exchange 2007 itself has turned corrupt, it required to be isolated.
This error occurs in such a case too. A corrupt mailbox has corrupt emails or its associated files. Such a mailbox is not offered to export. However, if any issues are faced while isolating such a mailbox, the server itself lead corruption.
As the message shows that, if the number of corrupt mailboxes being export exceeds its set limit, this error occurs. The Exchange 2007 permits an only a limited number of corrupt mailboxes to be a part of the migration. Anyhow, if the actual number of corrupt mailboxes is exceeding the set limit, the migration procedure is paused midway.
How Can I Handle Corrupt Items During Migration?
To handle corrupt items user export Exchange mailbox to PST skip corrupt items, Exchange Administrator can follow the Manual Solution such as:
a) Repair Exchange Mailbox
b) Increase BadItemLimit of Corrupted Items
Exchange 2010 / 2007 Export Mailbox to PST Skip Corrupted Items 
PowerShell Command enables Exchange Administrator to skip corrupt mailbox items to avoid error while migrating Exchange mailbox to Outlook PST format. For that use Parameter "BaditemsLimit" used to skip the corrupt items during the migration process.
After running Export command: 
"New-MailboxExportRequest <username> -FilePath \\servername\sharename\username.pst"
Due to corrupt Items, Error with Message occur such as:

To fix these kinds of Issue, We use Parameter such as "BadItemLimit" with "Accept Large Database"
While Migration, this parameter helps Administrator to allow the bad or corrupt items but we need to provide a valid input with the bad item limit such as 50 or less if the number of corrupt items large in number then the process fails, to avoid that use "AcceptLargeDatabase" if corrupt items large then 51.
"New-MailboxExportRequest <username> BadItemLimit [50] -FilePath \\servername\sharename\username.pst"
If still, the process fails then, Exchange Administrator needs to repair the Exchange mailbox to export mailbox items into PST File format. For that, use the "Eseutil", an inbuilt utility in Exchange environment.
Perform Soft Recovery, for Minor corruption and run Hard Recovery Command, use Eseutil commands but as last option after that, Administrator can run NewMailboxExportRequest again to export mailboxes to Outlook PST Format.
If Exchange Administrator fails to export 2007 mailboxes to PST without skipping corrupt items then the automated solution can be used to save Effort and Time
Exchange Export Tool – Export Exchange Mailbox to PST Skip Corrupted Items
This Automated solution offered by SysTools helps Exchange Administrator to Export Exchange Mailbox to PST File Items without data loss. Utility easily searches Exchange mailbox within Sub-Domain. The Exchange export software is equipped with advanced technology. It exports Exchange Mailbox to PST format with same folder structure maintained as earlier.
The software export several mailboxes from Live Exchange Server such as: corrupt, journal, disconnected, enabled, disabled, hosted, exclude dumpster to PST file in a simplified way. It is capable to export Exchange 2003, 2007, 2010, 2013, 2016 mailbox to Outlook data file.
If user want to convert Exchange 2010 mailbox to PST file, they can do it easily without using any PowerShell command.
Stepwise Guide to Perform the Export Procedure
Note: First Download the Software From Below Button
Download Now Free Purchase Now 100% Secure
1: Initially, Install & Run the software "Exchange Export Tool", The user-interface of the application will appear as follows:
2: Then, Add the administrator login Username & Password. Choose the server version of Live Exchange Server and enter the AD IP or Exchange Server IP and hit on "Login" button. You can check the "Include Sub-Domain User's" field if you need to export mailbox of sub-domain users as well.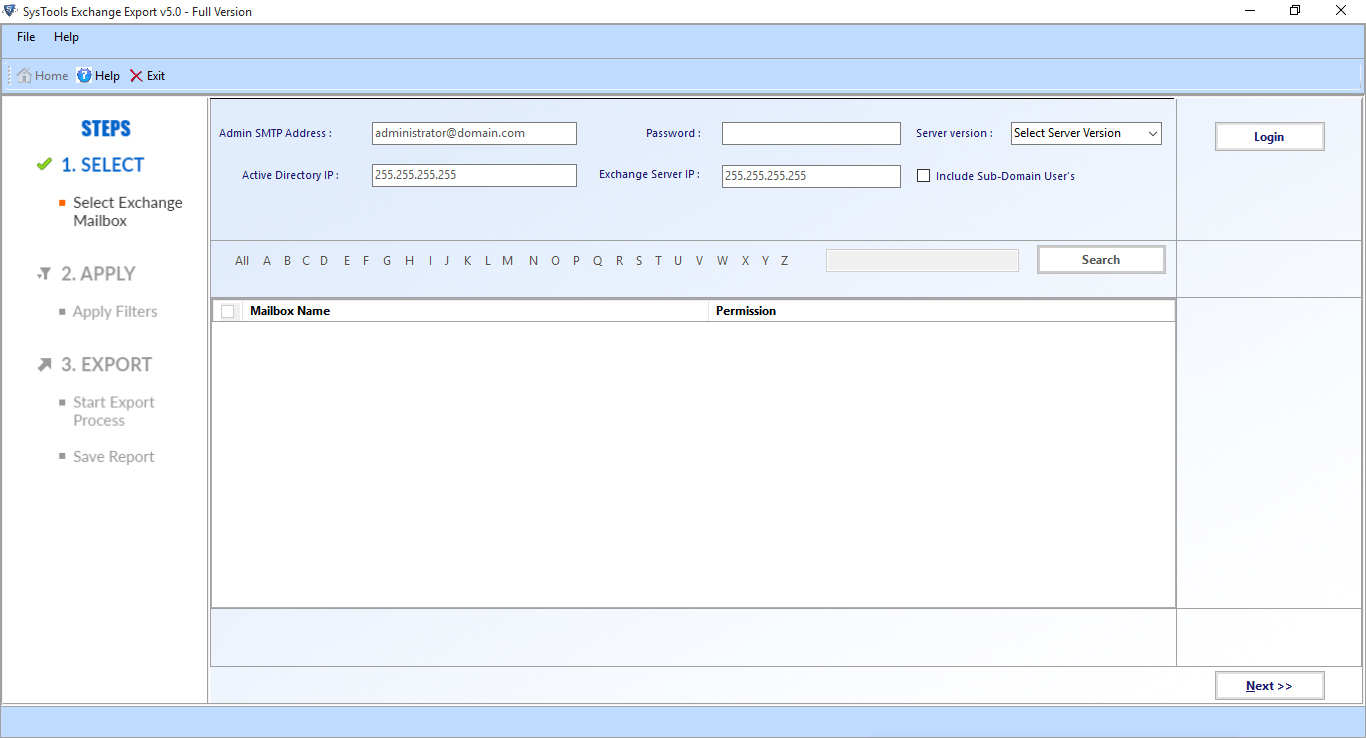 3: Opt the mailboxes which you need to export using the checkbox corresponding to them and select the "Next" button. You can also check or uncheck the mailbox components which you want to export.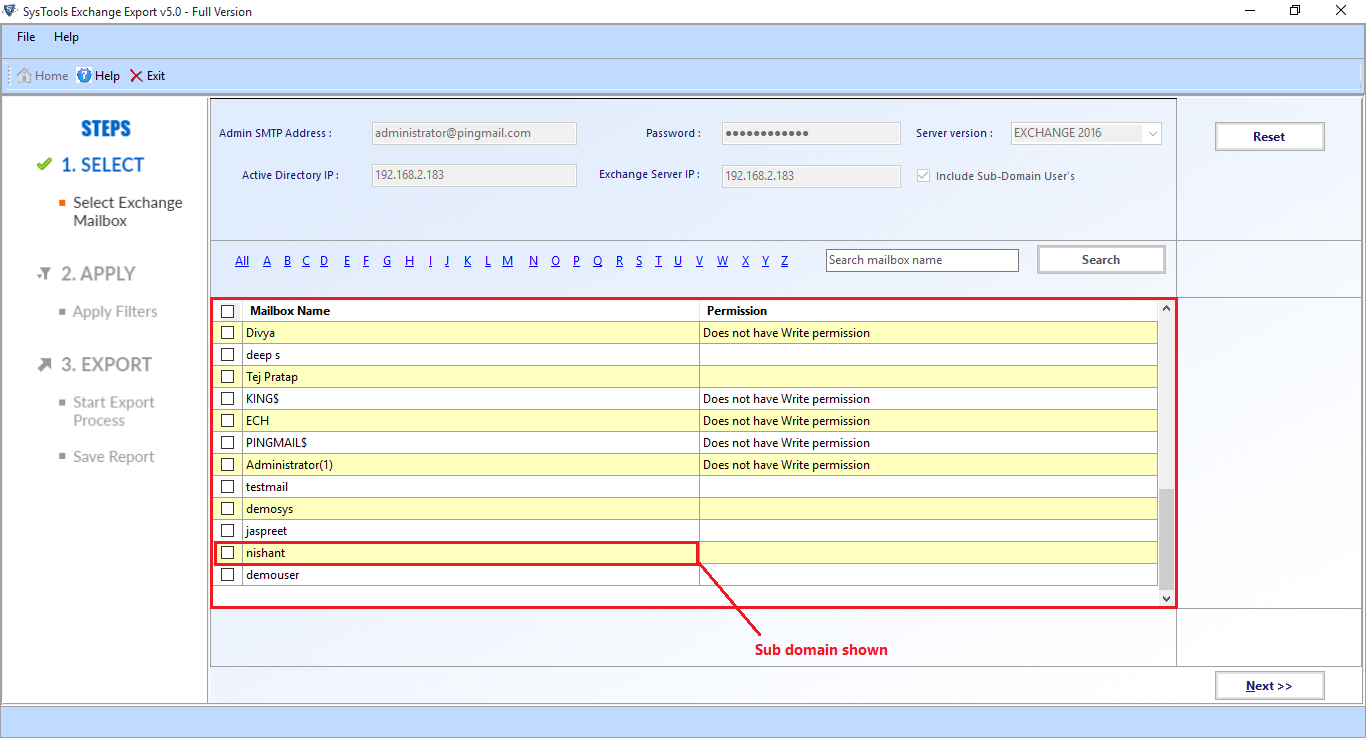 4: Afterwards, you can opt "Advanced Settings" for successful Exchange to Outlook migration. Retains Folder Hierarchy- This option permits you to preserves the folder hierarchy of folders during the migration procedure. Split Outlook PST File- This feature offers you to split PST file after the mentioned file size.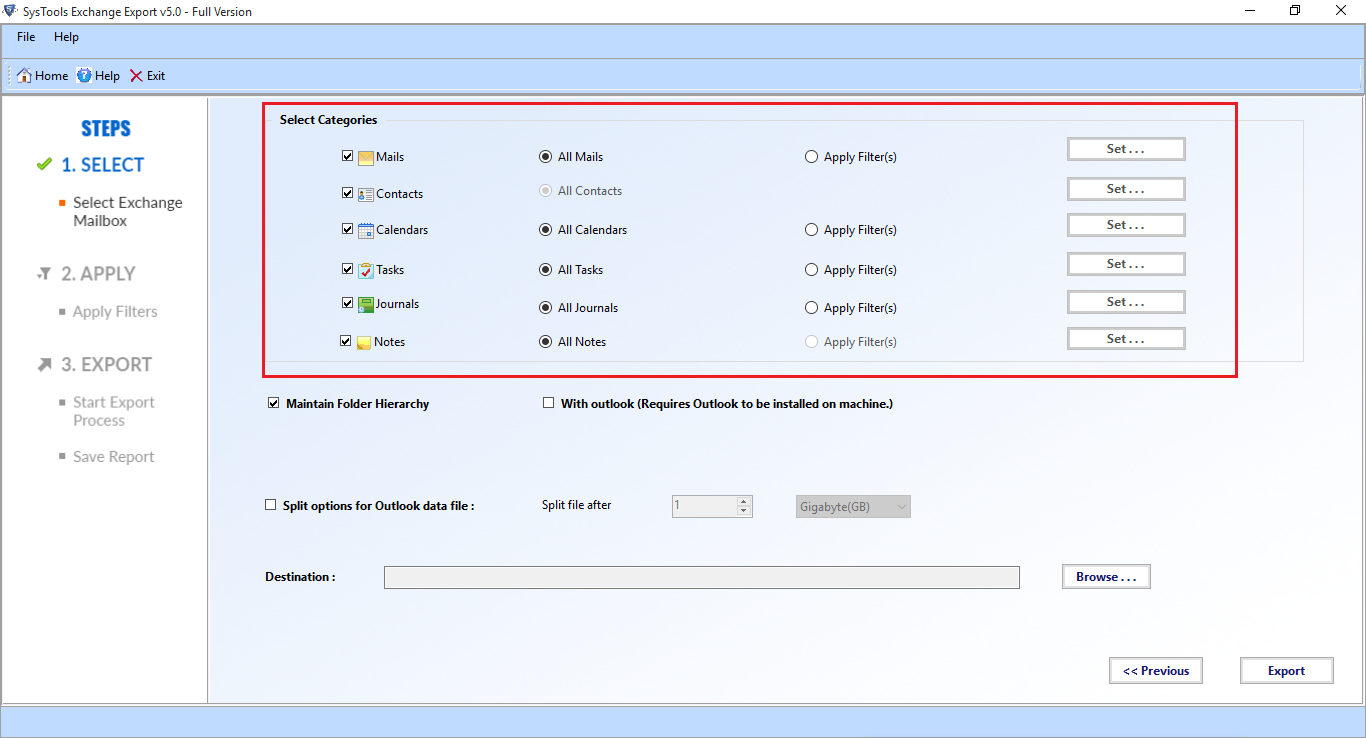 5: Select the "Browse" button to choose the destination folder where you need to save the resultant data file. Then, hit on "Export" button to start the conversion process.
6: After completion of the export process you can save the export format by clicking the "Save Report" button.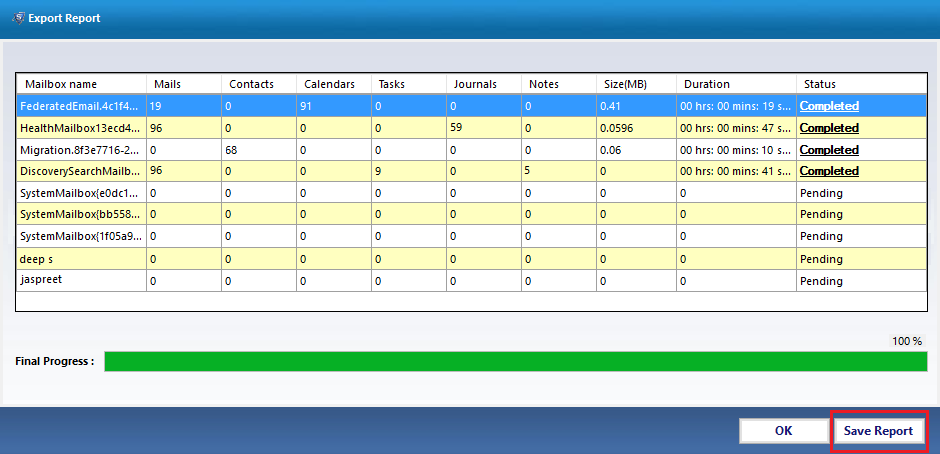 Note: If you want to export mailbox from dismounted or offline Exchange database mailbox to PST Skip corrupted Items then they can use the advanced solution i.e. SysTools EDB Converter Software which support dismounted and offline Exchange database file and easily convert Exchange EDB mailbox to Outlook PST File in a simplified manner without any hassle. Also, if users want to recover and repair the corruption from .edb file then they can use the Quick and Advance scan mode option provided by this utility which easily recovers mailbox database from minimal and major corruption in a hassle freeway and users can export the recovered EDB file and mailboxes directly to the Outlook PST file.
Download Now Free Purchase Now 100% Secure
Working Steps to Export Exchange Database Mailbox to PST Skip Corrupted Items
1. Download, Install and Run the automated tool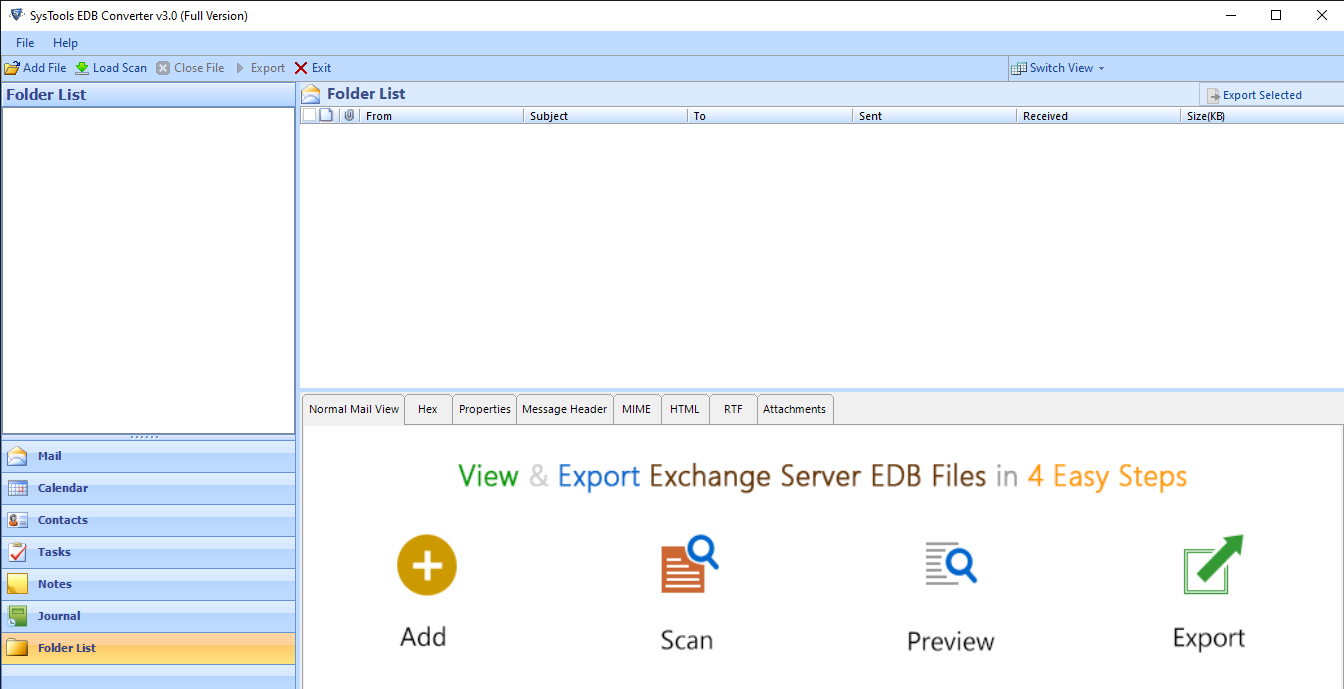 2. Then, click on the add file button >> Load corrupted Exchange EDB file >> Click on the Add button
Note: If you want to recover Exchange database file from corruption then select scan mode option i.e. Quick and Advance scan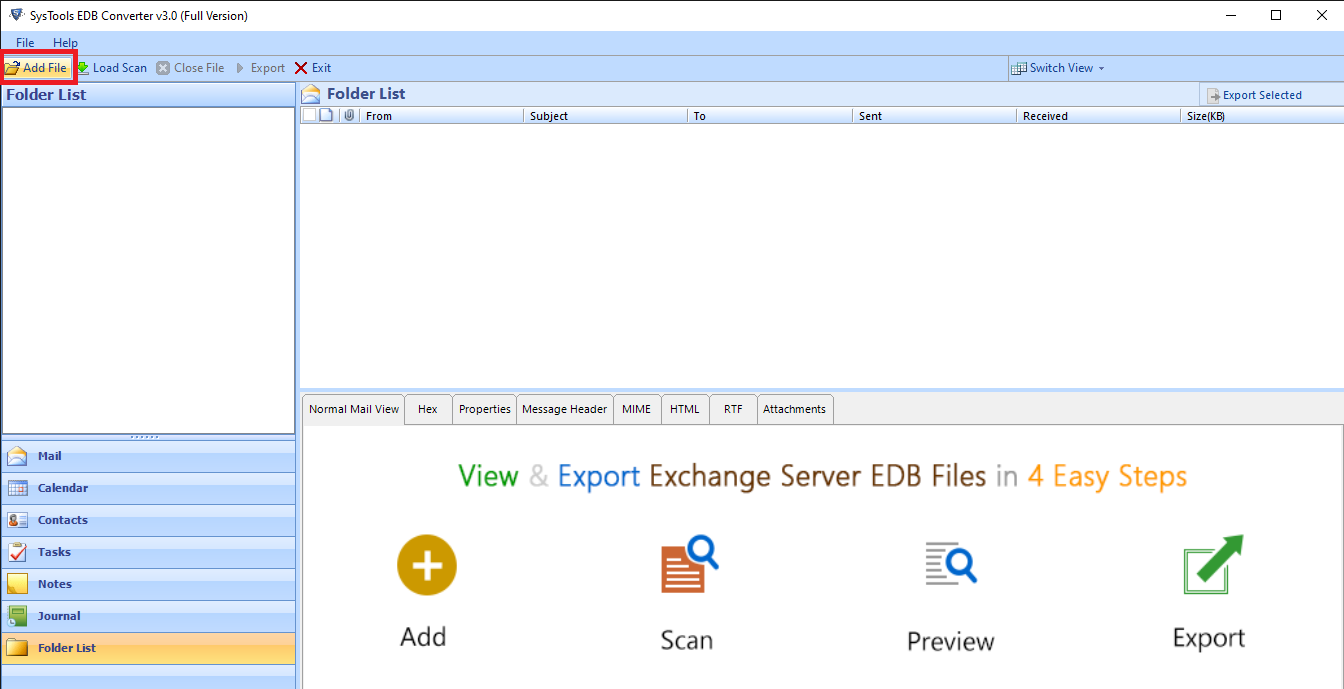 3. Preview the Exchange mailboxes >> Click export button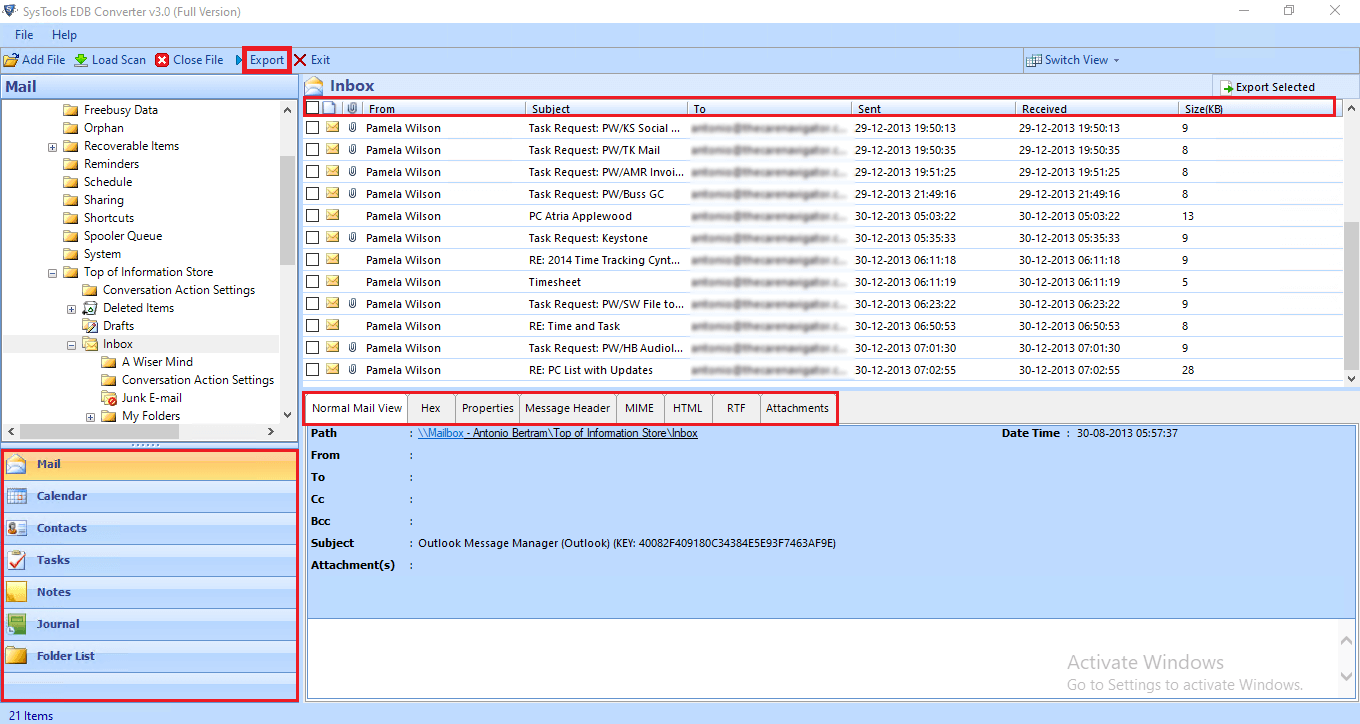 4. Select the mailboxes >> Click on PST >> Select browse button to set target file path >> Click on the export button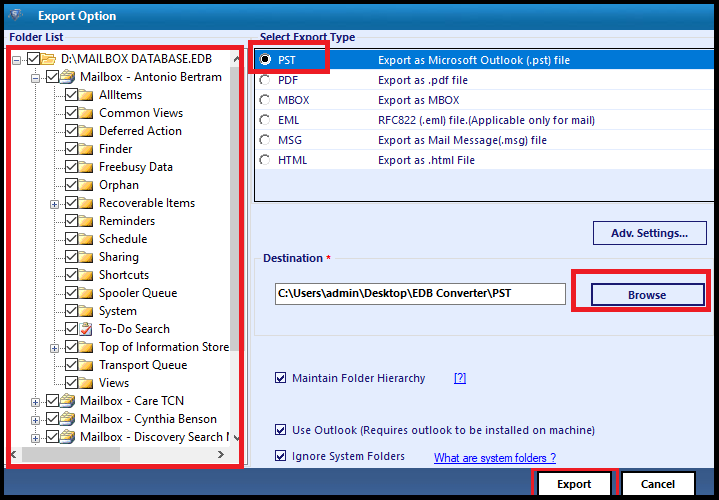 Summing Up
In Exchange Environment, the mailbox can be corrupted due to various reason and while migration those mailboxes exceeded the maximum number of corrupt item and process failed. To avoid this use parameter "Baditemslimit" and "AcceptLargeDatabase". Exchange Administrator can also use "Eseutil" Command to repair the mailbox items and use automated solution – SysTools Exchange Export Tool to perform Exchange 2007 / 2010 export mailbox to PST skip corrupted items.